Welcome November--with Sweet Potatoes
Halloween is two days behind us, and by now we here in the Northern Hemisphere
have accepted that the mid-point of autumn is here and there's no going back:
winter will come sooner or later for most of us.
You may know that November 1st was All Soul's Day,
or that Thanksgiving in America always arrives on the fourth Thursday of the month.
But I bet you didn't know that November
is also "Sweet Potato Awareness Month."
Apparently there is nothing in this world
that doesn't deserve some kind of celebration or commemoration.
And as if we weren't inundated with enough trivial information,
now we are exhorted to develop an awareness of sweet potatoes.
I am already aware of sweet potatoes.


But since I like sweet potatoes,
I will do my part and let everyone know that
1) sweet potatoes are not yams,
2) sweet potato fries are not better than real potato French fries
(sorry, U. S. Sweet Potato Council,)
3) no matter what you've been told by snooty television chefs,
it's not d
é
class
é
to put marshmallows on your sweet potatoes at Thanksgiving.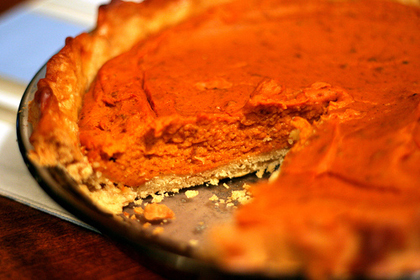 And the last thing you may not know is this:
no matter what you add to it,
pumpkin pie will never taste as divine
as a sweet potato pie made by a Southern cook.
Spread the word.
<>