When I lived in Missouri,
there was a little cottage in the old part of our city
that completely captivated me.
In a row of Victorians with gingerbread trim,
this little craftsman-style cottage at the end of a long, narrow lot
provided a respite from the architectural noise around it.
And what I liked best about it: its window boxes
filled with flowers and trailing vines.
So today, window boxes.
Here are two from This Old House.
Simple but inviting.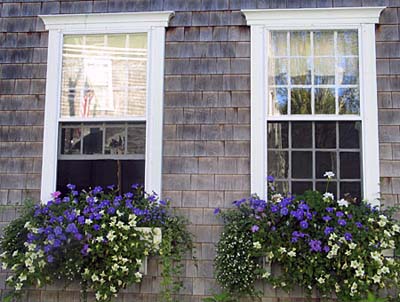 I love the blue and violet flowers in this one
from the Simple Details blog.
I think they must be a mix of lobelia and maybe verbena:
It's unusual to see orange shutters on a house,
but they look great with the flower box
filled with geraniums, petunias, and sweet potato vine.
I would love to see what they do with the box for Halloween and Thanksgiving:
I don't know which I like better here,
the tall black shutters or the window boxes full of flowers:
I find this next one really appealing.
I love black and green together.
The tiny orange flowers add a nice pop of warmth:
I have always believed that there should be beautiful views
outside every window of one's house.
Window boxes are a good way to achieve that.
<>