"House Numbers on Garden Pots and Planters"
For most of this summer's blogging,
I've explored garden arches and arbors, paths, and gates.
And in searching for images to share,
I came across so many crisp and creative front doors and entryways.
I also found something I hadn't expected:
creative ways to display house numbers.
And it seems painting your house numbers on garden pots and planters
is a very popular choice.
This first photo is on multiple web sites:
This next one is a bit more lighthearted.
I love the yellow marigolds:
If a long line isn't appealing, how about two levels?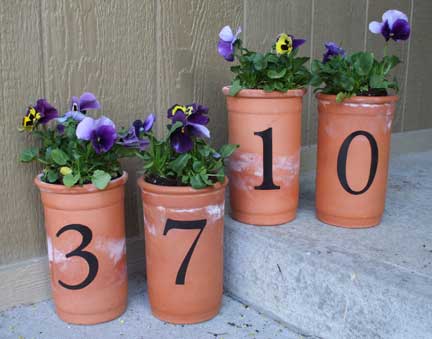 Some people stack them instead:
This small planter set on a plant stand is simple
but the stylized white lettering really stands out from the black:
While I was looking at all these creative house numbers on garden pots,
it occurred to me that I need to rehabilitate
my own house numbers.
The brass ones on the mailbox have been covered by the Madison jasmine;
the painted ones on the curb have faded with age.
So I'll be exploring more ways to post house numbers.
Join me tomorrow for some house numbers
that make painted ones on garden pots
look downright conventional.
<>