I have been working on a special Valentine's Day craft
for a few days now,
and it is taking me much longer than I expected.
I plan to mail them out to my family,
but the finished product may not arrive before the 14th.
Next year, I will need to find something that doesn't take so long to dry.
I was looking at some Valentine's Day crafts online,
and found some that look like they would be fun to make.
I thought this garland of paper hearts was really pretty.
They look like they would be easy.
All you'd need is a drop of glue and some strips of colored paper.
I especially like the "print" hearts in the center:
Here are two other versions using nylon line and string:
Not to be outdone, Martha Stewart brings us
paper Valentine's Day baskets filled with candy.
All these need are folded card stock and ribbon.
How about painted wine corks?
Photo My Uncommon Slice of Suburbia
via Mother Nature Network at
These bookmarks have got to be one of the cutest things I've seen.
All you need are purloined paint sample cards, ribbon, and a heart-shaped punch: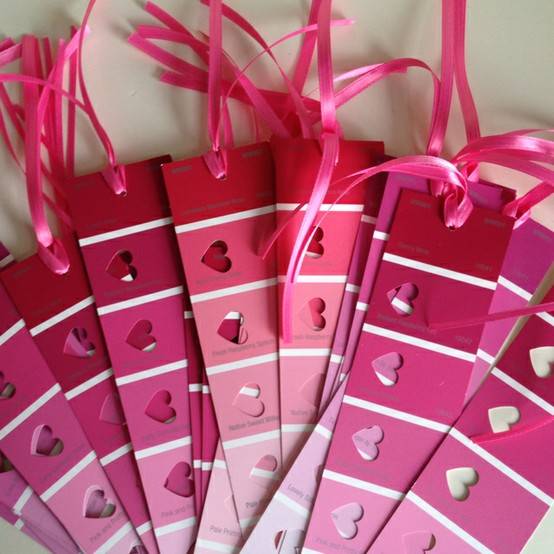 I love the creativity and resourcefulness of all of these.
If you travel through the internet, there are hundreds more.
Something for everyone.
And with Valentine's Day six days away,
there's still time to wow your family and friends.