I could say I never met a cookie I didn't like,
but as long as there are raisins and candied fruit lurking in cupboards,
I won't be making such a sweeping statement.
But I do love cookies.
I don't think anyone can be completely sad
as long as there are cookies nearby.
So for Valentine's Day--let's talk cookies!
Aren't these the most creative cookies ever?
These have an intricate and delicate design:
These look warm and comfy: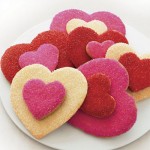 These are very sophisticated:
I'd have to say if I had a choice between Valentine's Day chocolates and cookies,
it would be an easy decision to make.
I'd look at the cookies and say just one thing:
Be mine.
<>