Last year when I was researching begonias
for this blog, I happened across something I had never heard of before:
a flower carpet. Specifically, a flower "carpet" of begonias in Brussels,
a tradition that has been recreated bi-annually since the early 1970s.
Photo: Aaron Ross, 2007, Clemson Extension, www.clemson.edu
Since I wrote about begonias in general yesterday,
I thought I would write about them in particular today
by sharing photos of the Brussels begonia carpets through the years.
This is the carpet for 2006: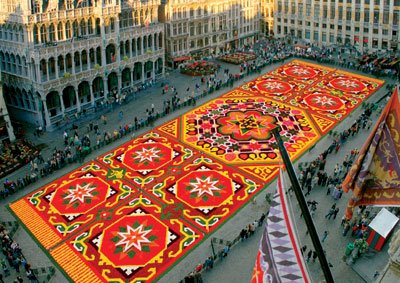 http://francoiseweeks.com/2012/08/begonia-carpet-in-brussels-grand-place/
Here's one from 2010, described in the blog Bella Floral:
The text in the upper left corner reads:
"The first Carpet of Flowers was created in 1971
as a way to promote begonias.
Each square metre of ground contains more than 300 flowers."
This one of the 2004 carpet is from the web site Event Horizons 17:
but its been stylized to show more vivid colors than reality.
Amazing what beauty and whimsy people can create when they work together!
<>