Yesterday I was in a garden center and noticed a sign that read:
"June is Perennial Month."
I had been unaware that such a commemoration exists,
so I have gotten all the way through June without celebrating perennials
in the spirit of the month.
But in an interesting coincidence,
I had already decided to devote the last Still Waters posts of June to perennials
because I had just purchased a few of my favorites.
So today, we'll start with the "perennial" favorite of lots of people:
purple coneflower, also known as echinachea.
When I was in Missouri recently, the coneflower grew wild
along the banks and meadows, topping the green grass with a fringe of purple.
This photo of the Whitmire Wildflower Garden in Missouri
is a good representation of what I saw.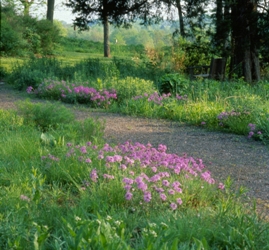 When I lived in Missouri,
I grew the purple coneflower intermixed with orange butterfly weed.
It was a happy combination, and the butterflies loved it.
I took this photo when I was at a local garden center last year;
Last week, I planted two coneflower plants--
but they weren't purple.
Join me tomorrow to find out just how colorful coneflower can be
<>