About six years ago, I planted 4 miniature gardenia shrubs
in a flower bed right next to the house.
The trees eventually grew up on that side
and consequently, the shade deepened
and the gardenias became more spindly
with yellow leaves and only an occasional, heroic flower.
Here's one of mine from last year:
And then late this spring, the trees were removed.
Over the last several days,
the gardenias in the neighborhood have come to full flower
and my four have about a dozen pure white blossoms.
That's progress.
I am hopeful that they will grow lush and send out the gardenia's sweet perfume.
Following are some photos of beautiful gardenias.


It would be easy to get lost in the spiral of this blossom:
Here's one from Southern Living Magazine online.
My gardenias have a long way to go before they look like this:
Here is one fashioned from silk with tiny jewels.
It's on ebay.com. Even though it's not a real gardenia,
it's so exquisite, I wanted to share it:
But let's finish with a real gardenia: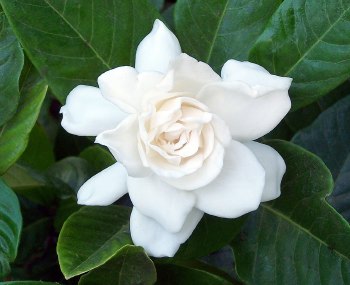 Could anyone look at a gardenia blossom and not believe in angels?
I don't think so.
<>