There is a long "boulevard" near my house
that begins at one busy intersection and culminates in another.
And along the road there are houses, schools, businesses and churches
all tucked into the trees that line the way.
There are also still a few old-time utility poles with criss-crossing power lines.
And just this week I noticed that one of them
has become the trellis for a lush pink climbing rose.
I don't recall ever seeing it bloom before, but it is well-established.
This year, it is smothered in pink roses.
They look like the ones in this photo
I love roses, but the ones that grow on the regular wand branches
don't appeal to me as much. Too much stem, not enough rose.
But climbing roses--if I had a green thumb,
I would have climbing roses everywhere.
Here are some beautiful images of climbing roses I discovered on the Internet.
These pink beauties really make the wooden fence look polished:
Not as vivid, but very romantic, and I really like the blue shutters:
I love yellow roses because they were the first flowers
my husband gave me when we were dating:
This would be a fantasy walk!
This next one reminds me of the poem "The Rose beyond the Wall"
by A. L. Frink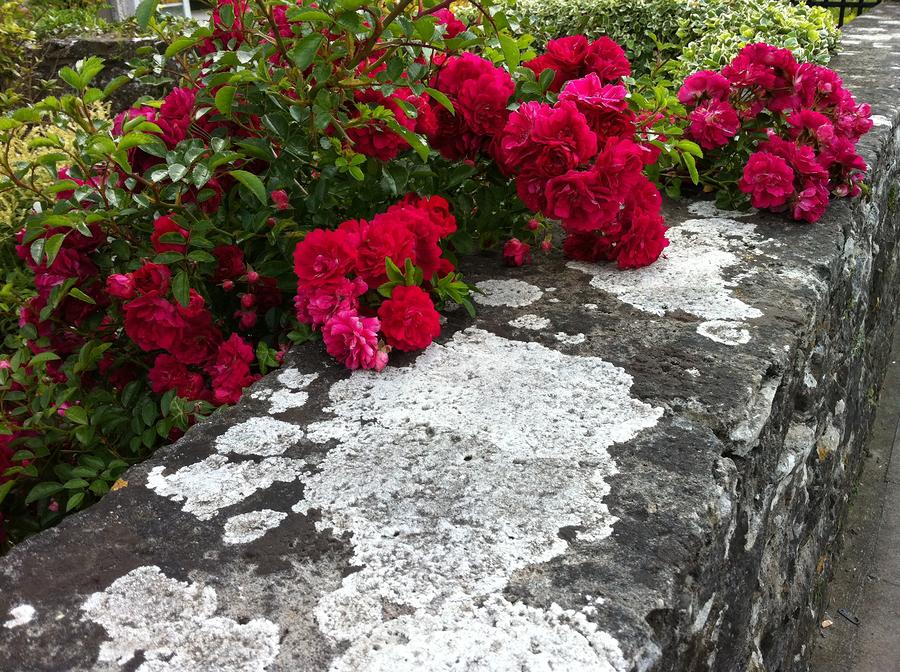 I wonder who planted the pink climbing roses
there along the road near my neighborhood.
At one time the area was comprised of little farmsteads.
Perhaps someone planted the roses as a pleasant greeting
as they turned toward home.
Whoever planted it is gone now, as is their house and farm.
But their roses still offer a pleasant greeting for me as I near my home,
and I'm grateful.
<>