When I was a kid, it seems every gentlewoman
who liked to garden had a collection of succulents called "hen and chicks."
They grew them in strawberry pots and planters:
www.everdreamnursery.com
In a world filled with beautiful flowers,
I could not comprehend the inclusion of hen and chicks.
Their pallid green color, liver-colored edges, and spiky ends left me cold.
But fast forward to now.
I have developed a new appreciation for succulents
(although to be clear, I still don't care for the hen and chicks plant).
But how could I not appreciate the subtle shades of green, gray, and blue
found in these flower-like beauties?
I have planted several in two pots
that are placed in front of my Buddha statue.
They are a soft, serene counterpart to its cool white marble.
And I find myself drawn to them
there in the midst of all the colorful begonias and impatiens.
They give the eye a place to rest.
Following are some images of succulents I found particularly beautiful.
Look at the symmetry of this unfolding succulent:
Here's a luscious wreath. Succulents at Lowe's cost about $3 to $5 each,
so I wonder how many dollars this guy was:
Here's one that has a lovely green color and petals: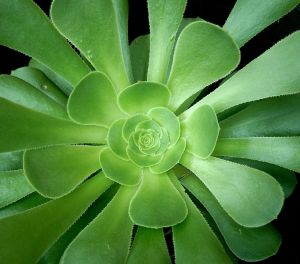 This is a cute idea: succulents in an electric blue bird bath:
I love this one too. Its simplicity evokes serenity:
Seeing all these neat ideas for gardening with succulents
makes me want to have more of them.
Lucky I just happen to have a strawberry pot with no residents right now.
But no hen and chicks allowed.
<>