In a little more than a week,
we will be celebrating All Hallow's Eve,
commonly known as Halloween.
I love to see the Halloween decorations on houses around town.
They seem to become more elaborate every year
with colored lights and jack-o-lanterns being the most simple of choices.
I thought it would be fun to count down to Halloween
by looking at different types of decoration.
First, let's start with the most recent craze,
inflatable decor.
On Sunday, we passed by a house
that had one of these purple big boys "climbing" up a fence:
Who wouldn't enjoy seeing this next group waiting on the lawn?
My neighbor has a pop up ghost on her front porch,
but I'm not sure its face is as sweet as the ghost's in this photo:
This is one cool cat: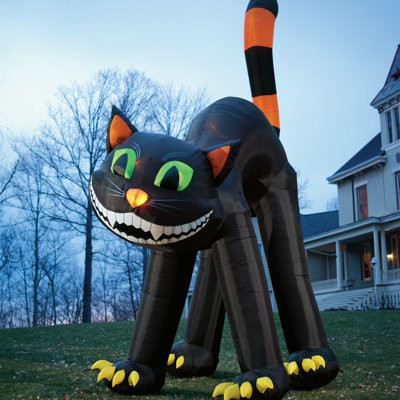 This last one has to be the most ambitious one I've seen.
Talk about pulling out all the stops.
I wonder why they didn't go all the way
and throw in a cat and some candy corn:
Tomorrow, we'll look at some more Halloween decorations.
<>