Welcome Mardi Gras!
Today is Fat Tuesday, the last day to celebrate
before Ash Wednesday, the first day of Lent
with its days of penance in preparation for the celebration of Easter.
photo courtesy of morguefile.com
Traditionally,
Carnival
begins on January 6th, the Feast of the Epiphany.
True revelers celebrate through Mardi Gras, the last day of the carnival season.
According to some historians, Carnival and Mardi Gras
are based on ancient Roman celebrations.
And talk about a party.
Romans celebrated the entire month of February or
Februarius
because it was the advent of Spring in the following month of
Martius
.
Source:
http://www2.cnr.edu/home/araia/febfeasts.htm
The College of New Rochelle site above describes
some of those February celebrations; for example,
Lupercalia was a commemoration of the founders of Rome,
Romulus and Remus, who were raised by a she-wolf.
photo from en.wikipedia.org
Another, Quirinalia, celebrated Roman warriors' transition to farmers.
Feralia honored the dead;
Terminalia was observed to strengthen property boundaries.
Something for everyone.
According to the website
American Catholic
some of the Roman celebrations included fasting for 40 days as part of the ritual.
The Christian observances for Lent and Easter
corresponded well to the Roman ones,
so by the time of the Middle Ages,
celebrations before Lent were well entrenched--
none more particularly than in the French Catholic Royal House of Bourbon,
where the fatted calf was sacrificed for Shrove Tuesday,
or as it's better known today, Mardi Gras.
And nobody does Fat Tuesday better than New Orleans, Louisiana.
Its parades, costumes, "gold" doubloons,
and purple, green, and gold beads
give the holiday its color and pizzazz.
So too, the masked balls and galas.
photo courtesy of morguefile.com
But it's not a celebration without food.
King Cake is traditional Mardi Gras fare.
The King Cake is baked with a tiny plastic baby inside
or sometimes a pecan,
and whoever finds it has to host the next party.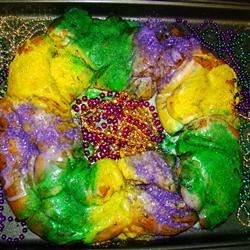 King Cake photo posted by Angela R on allrecipes.com
The traditional King Cake recipe is quite involved,
but here's a really quick version using convenience foods.
This version is adapted from one on
allrecipes.com
:
King Cake
3 cans refrigerated sweet roll dough
2 cans vanilla frosting
Food Coloring & Colored sugar: green, gold, purple
Unroll the dough, overlap the ends in order to form a ring.
Bake 50 - 60 minutes at 350 degrees. Cool.
Frost and decorate so each section is a different color.
Don't forget the plastic baby or pecan.
The baby can be inserted after the cake is baked.
So
Voila!
There you have it.
Laissez les bons temps rouler!
(Let the good times roll!)
and
Happy Mardi Gras!